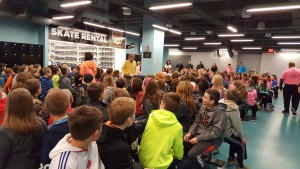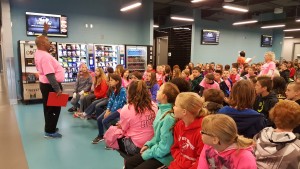 "Service Above Self"
The Rotary Club of Slippery Rock
Club #5163 in District 7280
Rotary Sponsors 5th Grade Trip to Lemieux Center
On Thursday May 5, 2016, one hundred fifty-five 5th grade students from the combined Slippery Rock Area Elementary and Moraine Elementary Schools took part in a "Day of Learning" event at the Lemieux/UPMC Sports Center in Cranberry, Pa.
This activity day was made possible through a grant provided by the Slippery Rock Rotary and Rotary District 7280. The students heard speakers discuss bullying issues, sports fitness, healthy eating habits, motivation skills and drug and alcohol consumption prevention.
They were able to tour the Pittsburgh Penguin practice facility, watch several Penguins practice and practice their own skating skills. The Rotary wishes to thank all of those who were involved with making this day a success. A special thank you to the schools' principals, staff and faculty!